Seattle CARES is more than mentoring. The organization invests not only in the youth they work with, but also their families. Their mission is to secure and transform the lives of Black children by inspiring, recruiting, and mobilizing masses of caring Black men and women to mentor and nourish them. Their programs respect the voices of the students, adults, parents and guardians they serve, and reflect the needs and wishes of the community.
The pandemic highlighted an increasing need for wrap-around support. Seattle CARES took only three weeks to reassess how they would adapt their programs virtually. Immediately following, they distributed laptops, hot spots and asked if families needed support with food and other basic necessities. Seattle CARES was able to accomplish this with the support of local partnerships, including laptops from InterConnection. Donald Cameron, Seattle CARES Executive Director said, "I've never seen more collaboration between nonprofits like I have in 2020. Whatever ego that might have been there was pushed aside to support families."

It's clear that Seattle CARES has built a foundation of trust with families as part of holistically supporting the youth in their programs. One program, The Rising, works with 40 or so students at Meany and Denny International middle schools, providing academic, social, and personal skill-building. The youth begin the program as 6th graders and can continue until 8th grade. "You really see how much they mature and we're learning alongside them," said Cameron. Tutoring was also added to their offerings during the pandemic and will continue to be a focus in the coming year.
Seattle CARES youth programs:
Seattle CARES shift to virtual learning was an opportunity to get creative with their programming. The Rising program used an innovative superhero curriculum to engage the students. Each student was asked to create a superhero in their own image, and then in groups, come up with an original story.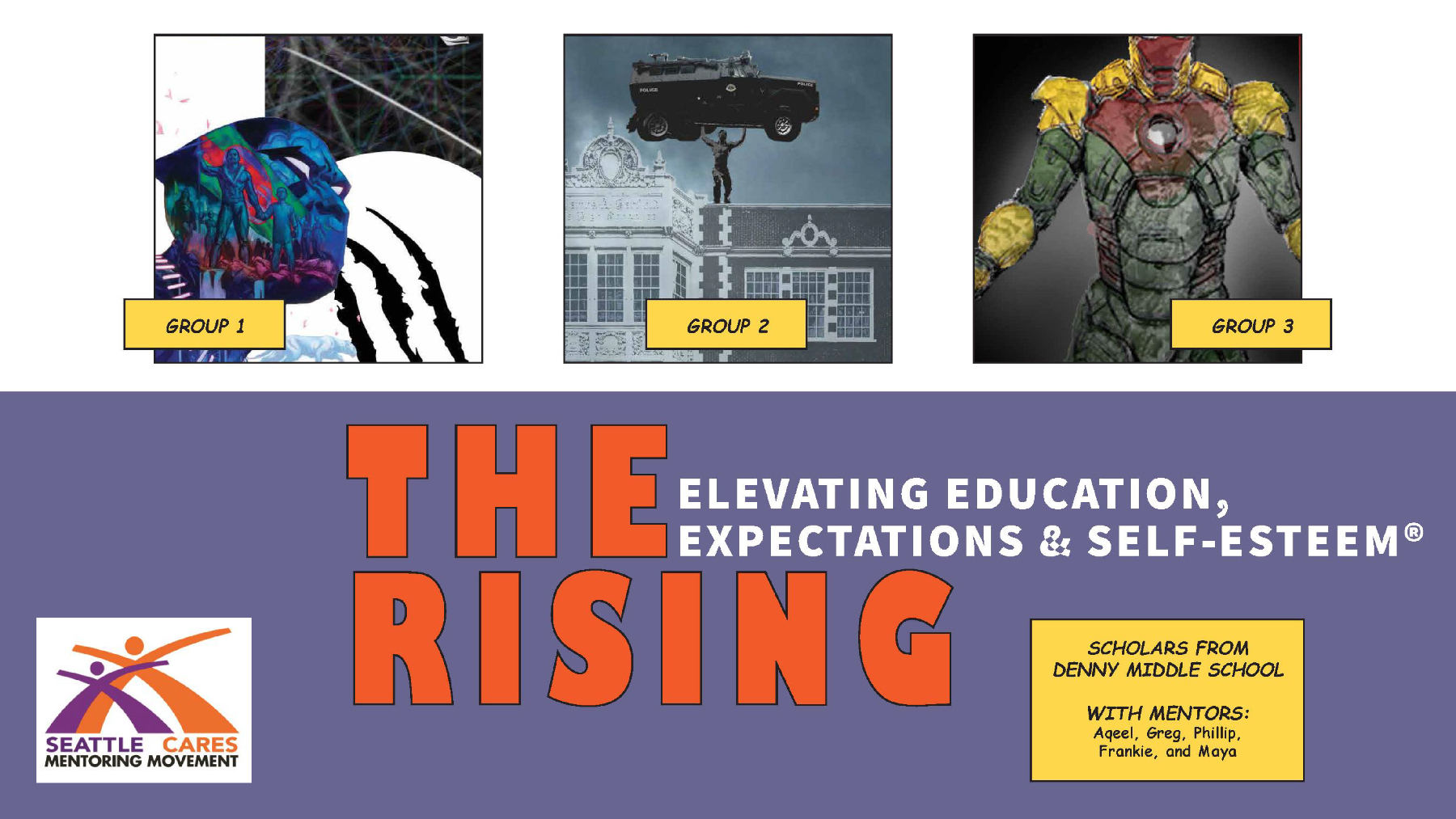 A group of nationally established comic book artists and writers volunteered to help the students bring the stories to life. The discussions that followed encouraged youth to deal with their fears and concerns—whether it was the COVID-19 pandemic or police violence. The result was a series of short stories that were presented at a virtual event to parents, teachers and principals at both schools.
When asked what's the most important thing he wants people to know about Seattle CARES, Cameron's heartfelt response was, "We help people. We care and we want to make a difference."
---
Seattle CARES is one of 421 organizations that received funding through the Washington Youth Development Nonprofit Relief Fund in 2020. The grant enabled them to offer continued tutoring support for their scholars.