The Accelerator YMCA program provides holistic support to young people and their families who have experienced trauma, helping them feel safe, successful, and happy. The Accelerator YMCA program takes place in three King County Housing Authority (KCHA) properties in Kent that include Valli Kee, Cascade Homes, and Birch Creek. The partnership between KCHA and YMCA began back in 2016 and serves 7th- 12th graders. Together, they offer a range of programs from fitness club, book club, leadership groups, and art and cooking activities after school.

Accelerator YMCA Kent team members, Rabecca Stewart and Jay Faggins participate in the Housing & Expanded Learning Opportunities (HELO) Network, a space where expanded learning and housing meet to close the opportunity gap for youth living in affordable housing. School's Out Washington helps lead the HELO Network.
Let's hear more from them directly about the community they serve and why and how they do this work.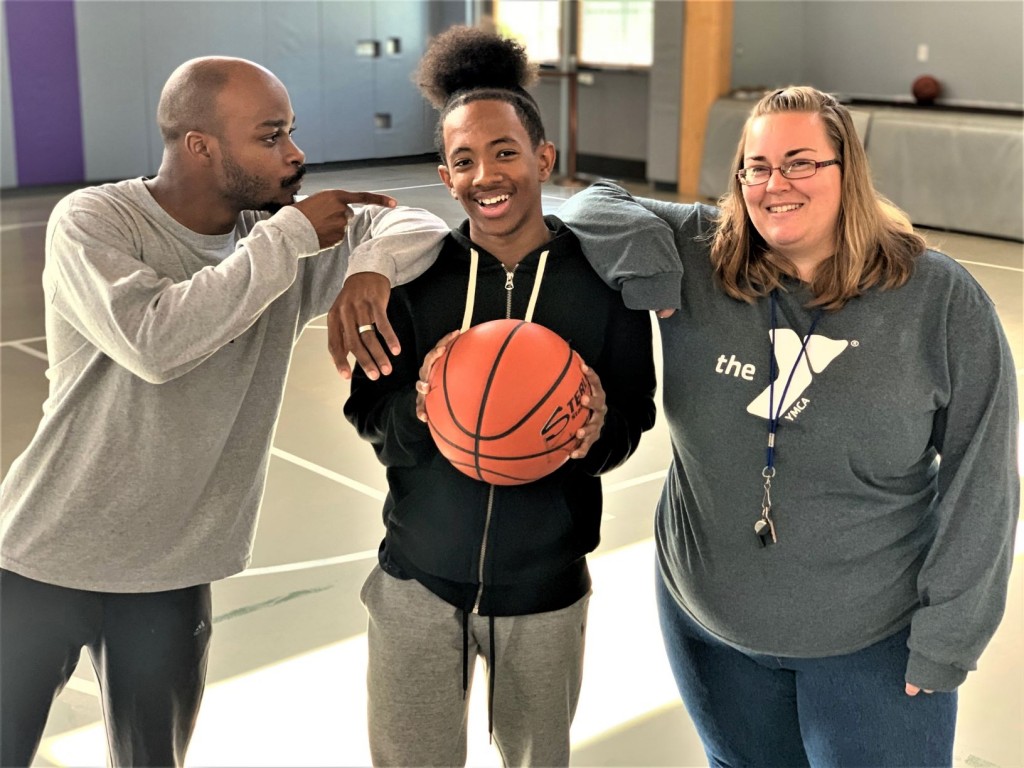 How did you get into youth development?
Rabecca Stewart (RS): "I wanted to have an impact. I grew a connection and saw myself [in youth]. I didn't have anything like this and wanted to be an extra support for them."
Jay Faggins (JF): "Professionally, it was something I fell into, but it was never my plan. I have a responsibility and duty to work with youth because so many young people have gifts that aren't being nurtured. I had a duty to give back and fell in love with giving back and to be a mentor that I've never had- I feel that is super important."
What's one thing special to you about youth development?
JF: "When you see the results. Sometimes youth are labeled 'at risk' and I don't see it as that. When you try to help and it doesn't seem like they're accepting your help, but sometimes they do and when you see them get out of a situation-the results and seeing an impact makes a difference."

What's the future you want to see for your young people?
JF: "I want them to do better than me and have it better than I did. I want them to believe in themselves and have more confidence in themselves."
RS: "I want them to be better off and I hope everything I try and teach them. I hope they understand… About themselves and happiness and how to grow and not be afraid of failure and being shut down. And those are just some steppingstones. Whether they make it or not is their choice, not putting blame on other people. I want them to grow into healthy people. I want to see them as president and CEOs one day."
What's one thing you would like to elevate about your community?
JF: "Don't believe the hype. Just because you have a stigma, you don't have to accept the stigma if you don't identify with it e.g. going to jail, being angry, being violent. Because it's not true; negative behavior is often amplified over the positive. I know it's not true-we need to highlight positive attributes."
Could you share a story about a young person you've worked with?
RS: "I met a student two years ago and he wasn't my favorite because he was very difficult. We didn't get along. The last two summers he went to leadership camp and grew a lot. Even though he walked out on the first day, he came back the next day. I told him you got to make a decision, you can't just be in and out. So he stayed and he did way better than expected. This year he was a leader and got to see what staff saw [in him]. He saw his own behavior and knew that he could do a lot better and constantly strived to do better. He shows up for all the clubs even without a reward or incentive and [that] says a lot–it is a huge change."
JF: "Shout out to Rabecca for her efforts!"

What's so special about housing?
RS: "Housing makes building relationships easier and getting into [youth's] business. And they hate when you're in their business. Staying on top of attendance and grades because they live here and sometimes you see them walking around in the neighborhood and you get a tip that they've been doing bad at school and can talk to them about it. It would be much harder if it were offsite."
RS: "The kids grow up together. They aren't afraid of who's going to be here or if I'm going to make new friends [in this space]. It's easier to round them up and tell them to grab others to come [to program]."

One thing people who don't know anything about your work, should know about?
RS: "It's not as easy as it might seem, and kids are not as tough as we think they are. We put extra into what we do and it's something we don't take lightly. You really need to have a passion to be here because it can be difficult."
JF: "Out-of-school-time is really important and I don't think the average person understands that. Just think – we send them to school and that is all they need… but for me I learned all my life lessons outside of school. I have much more memory outside of school rather than inside. So, we're going to be teaching our young men's group basic hygiene, how to tie a tie, and that you don't need to be tough. That's not cool and girls don't like that."

What's the value in being part of the HELO Network?
JF: "HELO helped me as a director and manager and beyond youth work. It has shown me how to be objective and how to be a better boss. And with the KCHA partnership, Ken [Nsimbi- Youth Program Coordinator] has been a huge ally anytime I needed anything. To have a funder who not just makes demands, but shows up for youth; he's an advocate and ally and I appreciate him for that."

About the HELO Network
The HELO Network meets quarterly in South King County and provides opportunities for youth development workers and housing resident service coordinators to meet and share best practices in providing high quality expanded learning programs in housing. The network launched in 2017 as a partnership between Housing Development Consortium, King County Housing Authority, Youth Development Executives of King County, and School's Out Washington.