We did it! 394 individuals virtually gathered over four days to grow, strategize, nourish, and ultimately work to create sustainable impact for our field.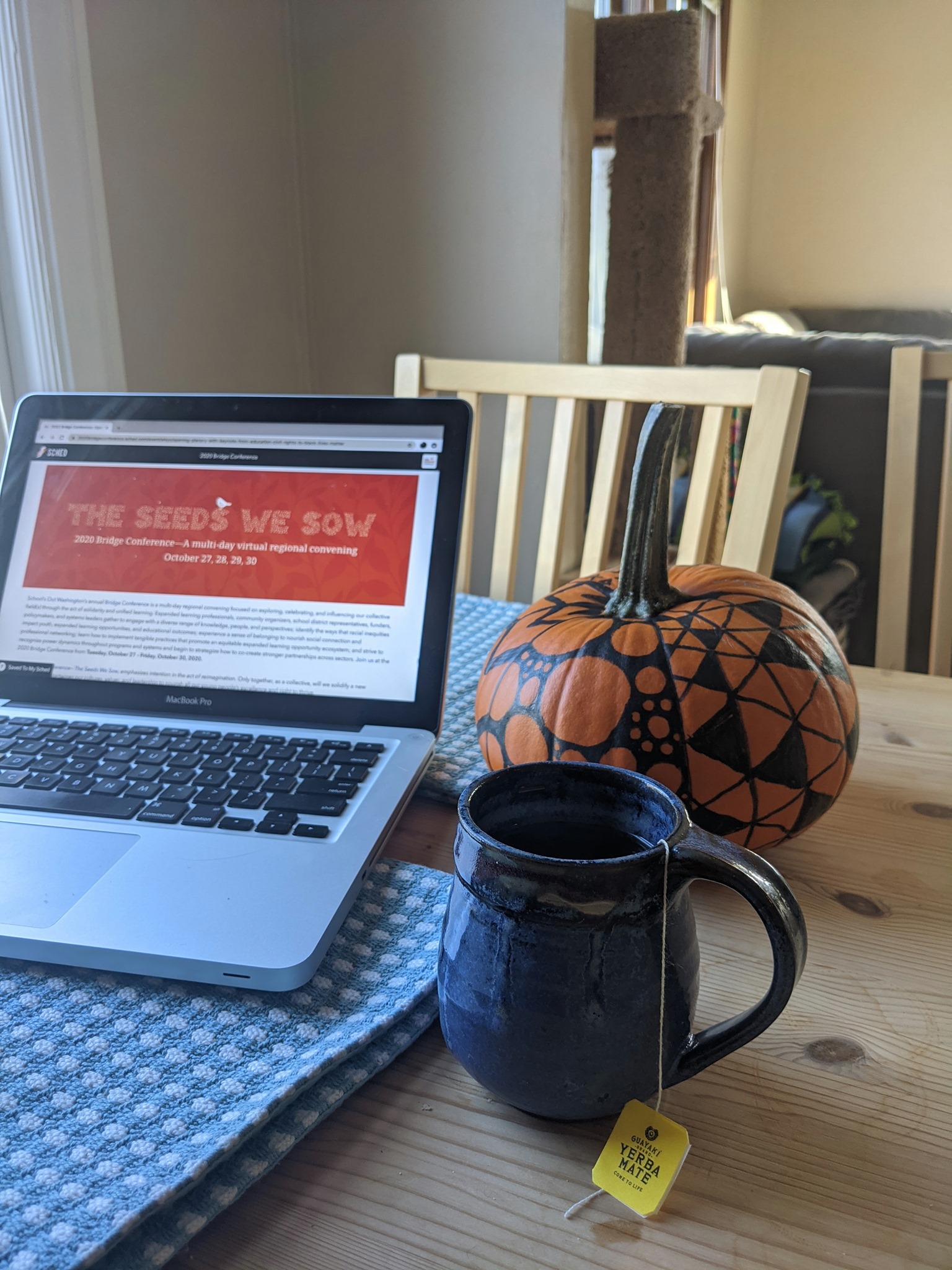 Planning this year was tough, not knowing what folks would need or want in the middle of a pandemic, while also navigating the fight for Black lives and the buildup of fear around the upcoming election. There were so many unknowns we were juggling, and our team worked really hard to ground ourselves and the spaces we curated in our Bridge values: equity, belonging, leadership, nourishing, change, innovation, and community. Some aspects of the conference manifested so beautifully and perfectly timed, and other aspects we dropped the ball a bit and have room to grow.
Holistically, though physically apart, I wholeheartedly feel this Bridge conference was powerful and different from years previous. We have always valued the coming together of our field, whether that be through trainings, learning community meetings, or one-off connections. But this year – despite all things and signs pointing to just cancel we curated a space that felt really necessary. From the amazing balance of the keynotes – Dr. Megan Ming Francis and Shontina Vernon snatching all the edges on my head elaborating on how systemic racism shows up in nonprofit and philanthropic services. To the actual workshops, and the intention and skillset that folks held. To our new storytelling hour and cultivating connections sessions that allowed us to actively listen and be human in. To the level of engagement and energy y'all brought into the space to bring it alive. Our field is extremely multifaceted and talented beyond measure.
I have been with SOWA for two years now and either I have been drinking the Kool-Aid a little too long or we are really growing as an organization and workplace. I am happy to be at an organization where I feel that I have real friends, and colleagues, and mentors all under one roof (and often time within the same person). We aren't perfect, nor do I think we pretend to be, there's so many things we do wrong – I will be the first to keep it a buck and tell you that much. Maybe they will keep me long enough to spill our tea some day in the future. But overall, I like some of the mistakes we make, how we make those mistakes, and I like how we are allowing ourselves to take risks and be transparent and most importantly – to fall forward amidst our mistakes.
My biggest point of frustration and fear for SOWA is the same I have for our field in general – the fear that folks will die at the intersection of being politically correct (perfectionism) and actionable solidarity. That we won't allow ourselves to dream big enough, loud enough, or wild enough to make the impact our field and communities are demanding of us.
An unintentional theme that I connected with throughout the four-day virtual conference was this question of – who are you when it matters most? And as I am still reflecting and digesting that for myself, I welcome y'all to do so as well. How are the narratives we have of ourselves reflected back to us in our daily lives? What seeds have you sown both intentionally and unintentionally? And again – who are you, when it matters most? I hope Bridge continues to be a place for our field to deepen its values of a collective growth mindset and a space for intentional reflection, joy, celebration, and learning.
See you all next year.