Last month, School's Out Washington led a tour of two of our Best Starts for Kids Out-of-School Time grantees to showcase their exemplary programs.
In Renton at the Highlands Neighborhood Center, kids were learning about how environmental pollutants enter our water systems (and enthusiastically spraying "rain" all over the model town), filling a room with giggles as they concocted shimmery slime using a recipe written in Spanish, and racing to construct machines out of items like pipe cleaners, tape, and pennies. A testament to how engrossing their activities were, the kids were largely unconcerned with the gaggle of adults in their space.
In South Seattle at Walk Away City Collaborative, kids were learning the ins and outs of green screen videography so that they could create a short video about rejecting choices like substance use that would knock them off of their journey to be their true selves. One participant even had the opportunity to talk about his political career aspirations with King County Executive Dow Constantine. It was a jam-packed day of thoughtful, creative youth work.
---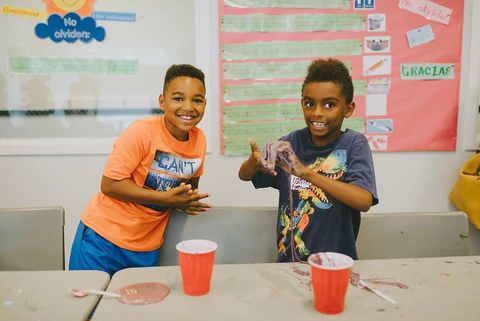 That morning, an impressive group was gathered outside the entrance to the Highlands Neighborhood Center in Renton. Among the many attendees were King County officials: Executive Dow Constantine, Strategic Advisor for Children and Youth Sheila Capestany, 5 – 24 Policy and Program Manager Kimberly Walker, Department of Community and Human Services Director Leo Flor, City of Renton officials like Carrie Nass, Community Services Administrator Kelly Beymer, Maryjane VanCleave, Recreation & Neighborhood Division Director, and School's Out staff. SOWA's Omana Imani, who oversees the Best Starts Out-of-School Time initiative, kicked off the day by briefing everyone on the context of our work and describing the structure of our funding strategies.
The Highlands Neighborhood Center is an example of a Place-Based Partnership, in which multiple organizations receive funding to support their collaborative work to serve kids in under-invested in areas that lack youth development programming. At Highlands, Centro Rendu of St. Vincent de Paul provides Spanish-language education, Techbridge Girls provides STEM programming, and the City of Renton (together with their subcontractor the Environmental Science Center) provides academic support and enrichment programming. They also jointly participate in SOWA's Quality Improvement process and create collaborative goals to benefit the youth that all partners are simultaneously working with.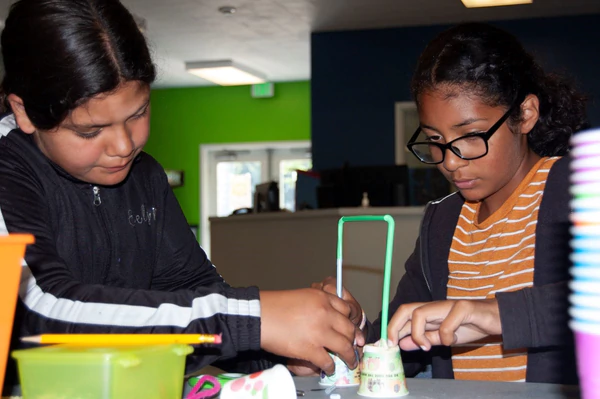 Keith Green II, the Recreation Specialist at the Highlands Neighborhood Center, spoke to the group about the STREAM Team program (Science, Technology, Recreation, Engineering, Art, and Math) that was started with Best Starts Out-of-School Time dollars, and about some of the many successes of the program since its shift from a drop-in programming to a custodial model, full of engaging offerings. After fielding some questions and taking an obligatory group photo, it was time to see the program in action.
When we walked into the lobby of the Highlands Neighborhood Center, there were pairs of kids working, with the support of both Techbridge Girls and Highlands staff, to complete rapid-fire engineering challenges. The kids were gracious in giving us a few moments of their precious programming time to tell us that they had a certain budget with which to buy materials like aluminum foil, pipe cleaners, and rubber bands to build a variety of mechanical structures. After the brief explanation of their activity, they dutifully ignored the dozen or so adults in their space and continued to tinker. They were to complete the first assignment on a randomly selected card, and then move on to the next structure. Some groups were making swing sets, while others were making marble runs. Tessa Nelson of Techbridge Girls noted that due to the demographics of the site, they had opted to expand the programming to include boys as well– who were clearly loving the challenge at hand.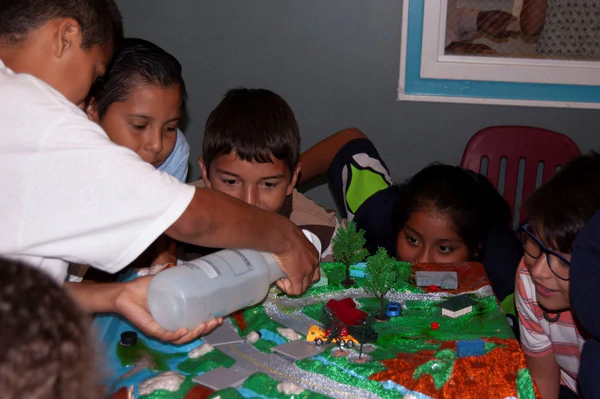 In the next room we toured, the Environmental Science Center was doing a hands-on lesson about water pollution. Kids were crowded around a 3D model of a community which included roads and cars, farms and factories, trees and streams. They were enraptured as ESC volunteer Larry Reymann sprinkled demo pollutants on the ground. "Put some over there!" "More from the cars!" Then, the squirt bottle full of water appeared. They all took turns producing "rain", which caused lurid green streaks to appear on the surface of the model where the pollutants had been, which then ran down little rivulets into the blue stream. Kids' eyes widened as Larry explained, "This is how bad pollutants get into the Puget Sound." There was talk of acidification, soil erosion, and damage to the water table. But mostly, there was the squirt bottle getting passed around the circle over and over again. Kids put their face right up to the edge of the model, fascinated with the consequences of pollution.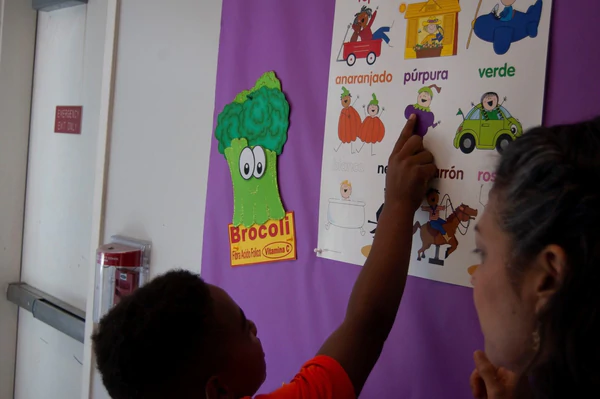 The last partner we got to see was Centro Rendu, whose staff were buzzing around the room in aprons to protect them from the oozing slime every kid was delightedly concocting. There were peals of laughter as kids mixed their ingredients (labelled in Spanish) in hopes of achieving the right consistency. When a boy excitedly showed me his particularly gooey slime, I asked him what colors he mixed: "blue and red for purple!" When I then asked "en Espanol?" he paused. Maricela Rodriguez appeared to guide him towards a poster on a nearby wall. She spoke with him in Spanish and he pointed and exclaimed "purpura!" "Purpura," Maricela repeated, gently correcting his pronunciation. There were similar posters all over the room, which helped kids learn the Spanish words for weather, emotions, and family members. Our time drew to a close and the group gathered again outside to say our goodbyes to the Renton folks and head north to our second destination.