In a year like no other, we saw how youth workers and organizations came together and reimagined what it meant to support children, youth, and families. Below is one of 20 people and organizations that inspired us in 2020. Read the full report.
Youth Development Strategy Table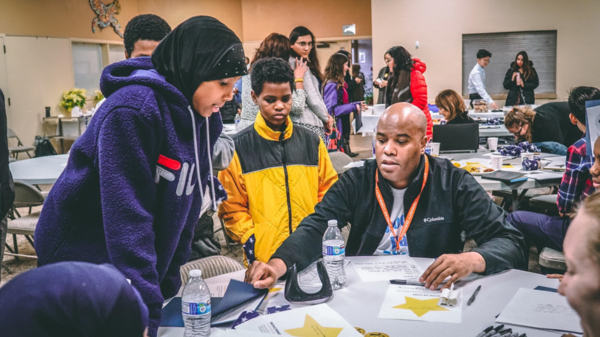 Advocacy has always been a crucial part of SOWA's work—championing funding and support for expanded learning opportunities across the state. Like so many things, that work shifted dramatically in the last year.
Legislators and state agency staff saw the immense value of child care and youth development providers. Organizations came together to share information, uplift one another, and ensure responsive supports were in place for youth and families most impacted by the pandemic.
Out of that momentum came the Youth Development Strategy Table—a unified voice for funding and supports for youth programs. Co-led by SOWA, Youth Development Executives of King County, Communities in Schools of Washington, and Mentor Washington, this coalition is made up of advocacy groups, community-based organizations, and public agencies across the state of Washington.
James Miles, executive director of Mentor Washington, is especially eager to support smaller organizations, especially those with BIPOC leaders from the furthest corners of the state.
"To have a collective group of people and organizations working to support youth and youth programs on a state level is definitely a game changer. We are helping to maintain and uplift the cultural fabric of the region," says Miles.
Jeannie Nist, associate director of Communities in Schools of Washington, adds, "We are working collectively to elevate the entire field. Please join us—I look forward to collaborating with youth development partners in the upcoming year!"
"Collaborative work results in collaborative wins and I'm excited to continue this momentum, trust, and work together for years to come," says David Beard, policy and advocacy director of SOWA.
2020 Washington State Advocacy Wins:
$10 million in COVID relief funding to youth development programs through the Washington State Department of Commerce
$8.1 million in funding to community-based organizations partnering to support youth in the pandemic through the Washington State Office of Superintendent of Public Instruction
CARES Act (Coronavirus Aid, Relief, and Economic Security Act) funding to bolster school age child care programs
Strong partnership with Governor Inslee's Office, legislators, and DCYF regarding information to and input from the field regarding pandemic-related strategies and decisions. This collaboration led to the most successful session ever held for expanded learning in 2021.
For more information or to join the YDST, visit ydstrategy.org.