Washington is ranked 25th hungriest state in the nation with 1 in 5 kids in our state living in a household that struggles to put food on the table. Food insecurity refers to households that lack available financial resources for food or may have to make trade-offs between basic needs and buying adequate nutritious food. Hunger can create obstacles to learning and growing. Afterschool and summer meals are a critical component of keeping children and youth all across our state full, healthy, and ready to learn.
During their time at the After School Center, youth receive supper, homework help (math, spelling, reading), activities, sports, and playtime. The After School Homework Center provides food security to youth while providing homework help, one of the key things educators and parents want afterschool programs to support. The Salvation Army White Center's After School Homework Center is an afterschool program positively impacting kids through quality educational programming and healthy meals. Children come to eat, learn, explore and play! The program picks up kids 1st through 8th grade from Highland Park Elementary School and Roxhill Elementary School, Monday – Thursday.
Some of the youth I spoke to, Serena (age 9), Denifha (age 9), Jasmine (age 8), and Janice (age 9) enjoy reading time where kids pick a book from the mini library to read. The girls talked about the Fall Festival earlier that week and the slime they got to make for Halloween. Serena likes the center because it's "cool and everyone is kind and loving. We know we're safe here. It's a really nice place." The Center does a fantastic job of filling kids' minds and bellies.
Over the past year and a half, Program Director Sarah Cordero has successfully doubled the number of youth coming to the Afterschool Homework Center and has retained high attendance. The Center serves 65 youth with a waitlist. Sarah attributes her success to adding a fee and making attendance mandatory. By charging a $10 monthly fee, families invest in the quality of programming their children receive at the Center.
Sarah understands the importance of combining education and meals. For one, it's a natural transition to link education and food together, "if we're going to require them to use their brain, then they need their stomachs to be filled." Research proves that "feeding children's bodies also helps to feed their minds and allows children and youth to learn better and retain more information when they aren't focused on where their next meal will come from" (School's Out Washington, 2018).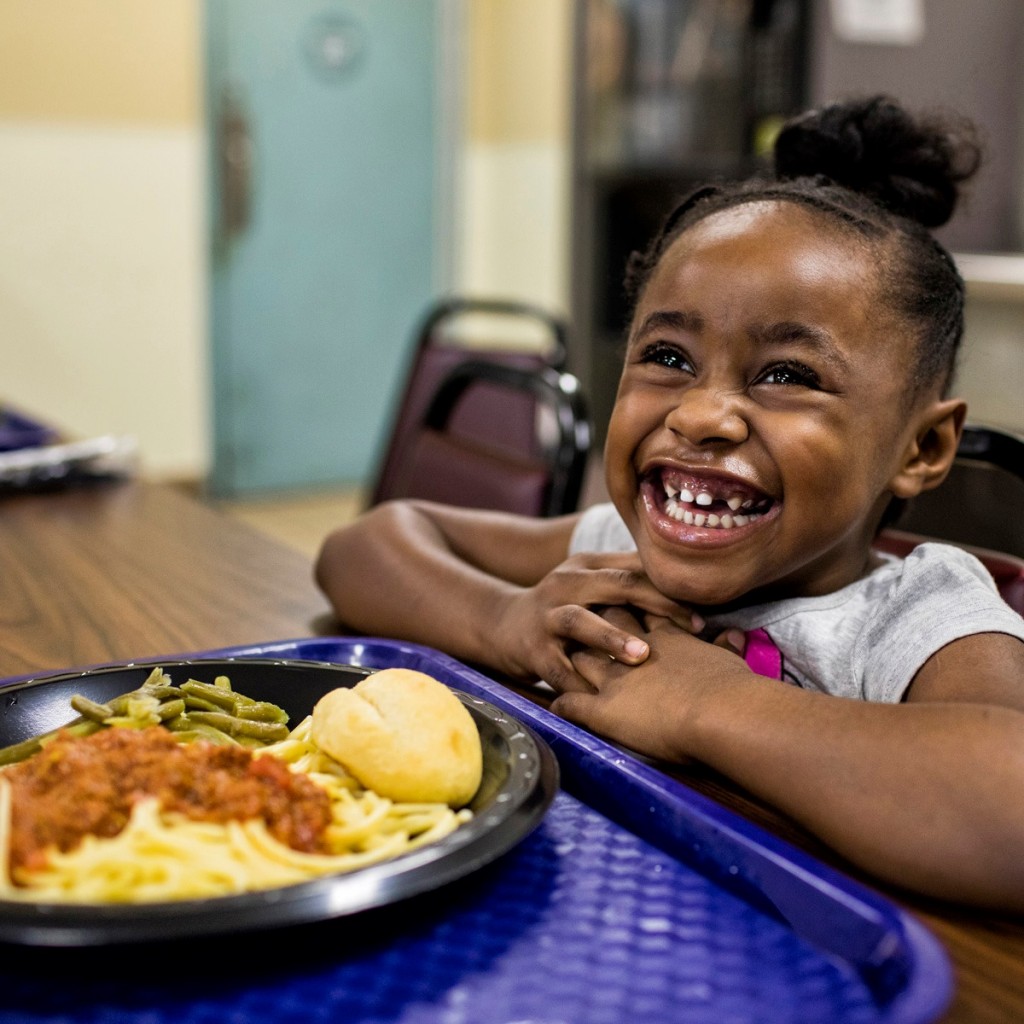 The meals are supplied by FareStart's School Meals Program and the menu had a Healthy Wholegrain Pita Pizza or Hardboiled egg, but no matter what you chose, there was plenty of Tapatio to go around. Cucumbers, bananas, and milk were abundant as kids ate nutritious, healthy, filling meals as dictated by Child and Adult Care Food Program (CACPF) federal regulations. I had the pleasure of visiting one of the suppers at the After School Center and learned more about the great partnership supporting more meals for kids.
The After School Center is a great example of braiding different funding sources to create quality programs. The meals are facilitated by Michael Simonelli and Nicole Lowe with the YMCA of Greater Seattle's Hunger Initiatives program. YMCA of Greater Seattle has a partnership with United Way of King County and receives funds from the CACFP and the Walmart Foundation. Any afterschool program that fits the OPSI Guidelines can use CACFP to be reimbursed for meals. Sarah affirms that serving meals is "really easy," especially with help from the YMCA as a facilitator. Once the system is in place, it's easy to maintain.
A special thanks to Sarah Cordero Program Director of Salvation Army White Center and Michael Simonelli from YMCA of Greater Seattle for answering questions and helping facilitate my site visit. You're doing amazing work!