This year's Bridge Conference reminded us of the power of collective knowledge and community building. Over 500 registrants logged in for our second virtual conference and were asked to tap into their radical imaginations.
Values that guided us include Nourishment, Community, and Change.
Nourishment
This year's theme, From Seedlings to Stardust, inspired many during our conference including our workshop facilitators, keynote speakers and storytellers. We dared to dream and to pour into continued transformation.
"The theme and values were so clear and consistent; I really do feel nourished by my time at Bridge– and supported to *act*," said one attendee.
Cultivating Connections was also brought back as a space to digest, reflect, and simply connect like we might at an in-person conference. Participants convened in smaller groups to mull over learnings from previous sessions as well as discuss, problem solve, or network.
"It was a safe space. I felt comfortable to unmute, share, post in the chat, etc. I also appreciated the diversity of attendees and speakers," said another attendee.
Community
Despite being separated by screens, 98% of respondents to the Bridge Conference Final Evaluation agreed or strongly agreed that the Conference was welcoming and inclusive.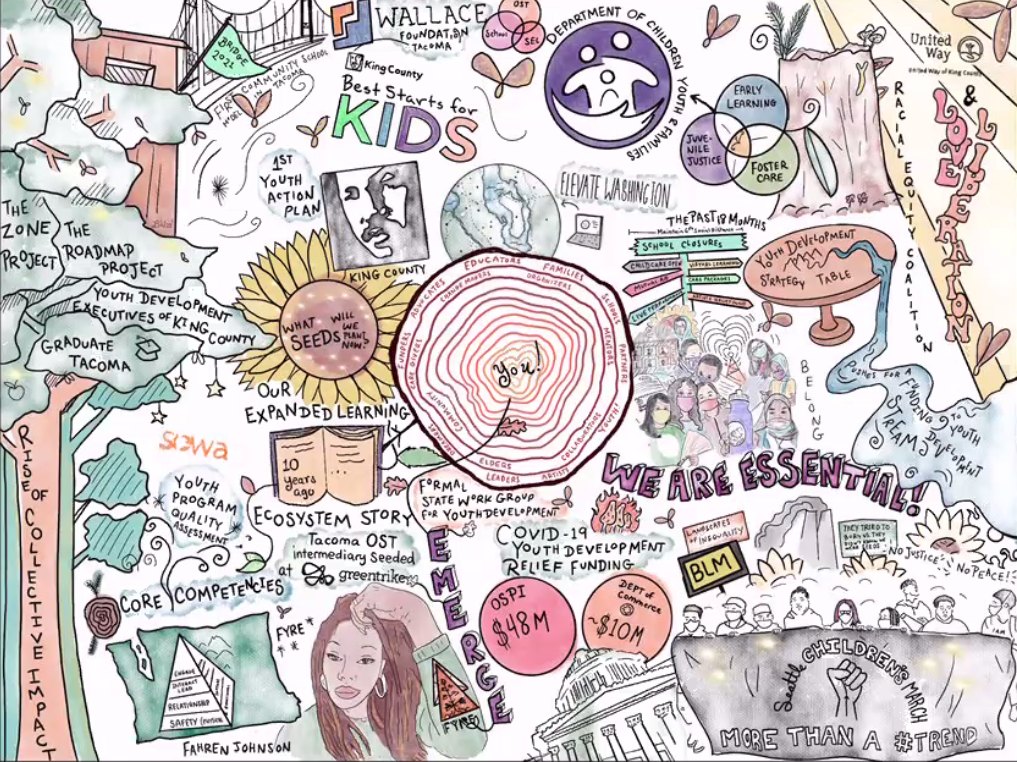 One presenter said, "This is by far the best conference presenter experience I have had this year. I have presented at several conferences and the collegiality and support from Bridge was outstanding."
During our Systems Leaders Pre-Conference, attendees were grounded in what expanded learning system building has looked like in Washington State over the last year then were invited to share their stories and hear about local, regional and statewide system building efforts.
One attendee said, "Even though I might feel like we are alone in this work, we are not."
Change
Over the course of three days, we heard from many voices in the youth development field including more youth than any year before as well as Liz Dozier and Hollis Wong-Wear as keynote speakers.
Hollis closed out our conference with a powerful message of change and a nod to those who have come before us with her song Grace Lee inspired by the teachings of Grace Lee Boggs.
"The real engine of change is never critical mass. Dramatic and systemic change always starts with critical connections." – Grace Lee Boggs
After Hollis spoke, one attendee said, "The work starts with US or You in youth development. Reframing questions, perceptions, and ways of working. All the guest speakers were incredible and inspiring. Loved the reframing of teaching to cultivating."
In our Storytelling Hour, we heard from community organizers and change makers, who shared personal images and stories related to the self, our interconnectedness, the values that drive us, and what ecosystems of change look like.
The theme was woven throughout the hour and the storytellers challenged the audience to reclaim their joy, their culture and their story as a means of resistance in their communities.
"Change is a choice… It means choosing joy in the face of oppression," shared Benji Anderson, director of programs at The Service Board and storyteller.
What's next?
We are excited to announce we'll be in Tacoma for our 2022 Bridge Conference, at the Greater Tacoma Convention Center and Marriott Tacoma Downtown.

Save the dates of October 24-25 and we'll see you next year!