This summer, hundreds of kites cumulatively flew at Gasworks Park. Northgate Elementary School students were responsible for dozens in the sky one sunny Friday afternoon. They built and then decorated their creations with images that reflected their cultures and their communities. Family crests, the Mexican flag, and drawings of culturally specific foods danced above Kite Hill as the downtown Seattle skyline glittered in the distance.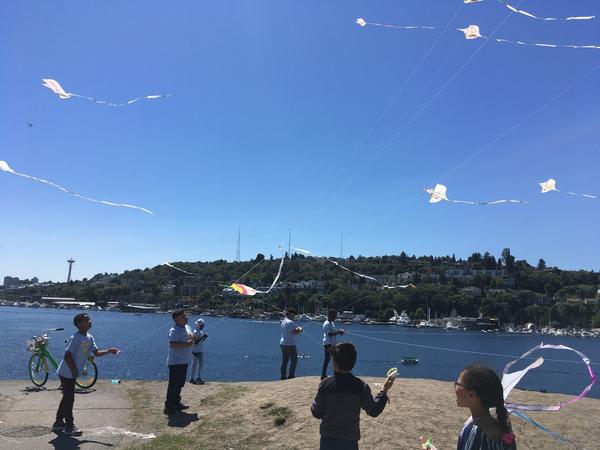 Rebecca Brito, Recreation Leader at Northgate with Seattle Parks and Recreation, said she was excited to be at that location because she, "wanted kids to feel ownership of public space— especially when that seems to be up for debate." The students who participated in the summer camp, largely youth of color, will grow into Black and Brown teenagers who too often are met with suspicion for simply being in the world. Much like the kite-flying location was chosen intentionally to promote a sense of belonging within the city for kids, the summer curriculum (which drew from Chicago's We All Live Here project) was implemented to promote relationship-building amongst the Northgate Elementary community and honor the culture of every student.
The school's newest art teacher, Mr. Barber, brought this project to Northgate in the 2018-2019 school year. When Rebecca saw the benefits it was having for students, she knew she had an opportunity to weave multiple threads together. Seattle Parks and Recreation provides joint services at Northgate with their Place-Based Partner STEM Paths Innovation Network through the Best Starts for Kids initiative. As part of their participation in SOWA's Program Quality Initiative, the partners had determined that one of their goals was to invite more of their kids' cultures into their after-school programs. Outside of Northgate, Seattle Parks and Rec was engaging in community dialogue to promote love of parks and to reimagine their future. And the New York Times released an article that featured the Northgate neighborhood in its exploration of how place impacts a child's economic future.
Youth can have vastly different outcomes as adults that directly correlate to what neighborhoods they grew up in. Why does a kid in a low-income family living on one block grow up to earn a higher income as an adult, while a kid in a low-income family living across the street will earn less and be more likely to be unemployed or incarcerated when they grow up? Policy makers, social service workers, and community members are still trying to make sense of the data and how to use it, but a clear determinant emerges— "the environment within about half a mile of a child's home."
Northgate's afterschool program has long been focused on serving the unique populations of the surrounding neighborhood. The school has a Newcomer Center to support students who have been in the United States for less than a year which is related to the high percentage of ELL students they serve—37% of the 99 youth served this summer are ELL. Before Best Starts for Kids funding, the afterschool program exclusively provided academic intervention for struggling students. Through the expansion of the program, 70% of all 2nd through 5th graders are being served.
The focus remains serving youth who need additional support, as well as kids connected with Mary's Place (which is now in the attendance area of the school, and in part accounts for the high percentage of students experiencing homelessness), but there's less division between the "intervention clubs" and the additional programming offered. Monica Haugen, Site Director with Seattle Parks and Recreation explains, "Kids want to be in intervention clubs! They want to do reader's theatre, they want to play math games. We make our programming intentionally awesome." Rebecca says that her intention has always been, "to model a strengths-based approach versus the deficit mindset that is often associated with kids of color in academic intervention settings." This structure is seeing results, with 100% of participants in the program meeting reading benchmarks.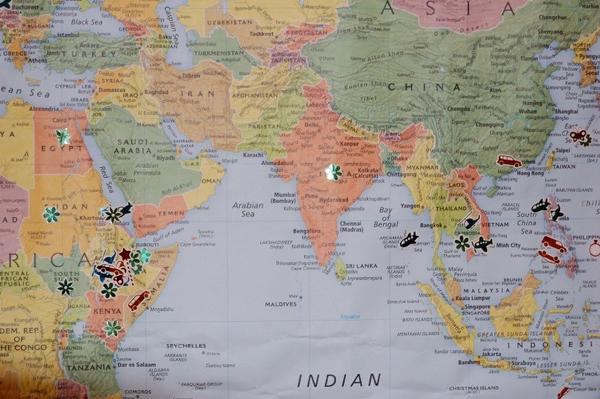 This summer, Northgate staff worked with students to identify what made up their shared community. Building off of the work started in the first year of the Best Starts-funded programming, program culture was supported by standardizing opening questions and reflection questions so that everyone in every class was having related conversations. Rebecca created curriculum with questions like, "What is your favorite park? Where do you go to celebrate? Where is your family from? What is your home language?" When drawing pictures of their homes, one boy who was participating in Northgate's summer school despite living in another neighborhood made a point to proclaim that he lived in a huge three-story house with lots of toys. A Northgate student plucked up the courage to share that she lived in a trailer park and showed the class the picture of her mobile home. Others lived in the trailer park and were able to bond over their unique community, where families took turns watching everyone's kids and shared meals with their neighborhoods.
These conversations have promoted bonds that deepened between students, and also strengthened the wider community. Kids names external entities like WinCo, "the Eritrean restaurant", and Taco Bell as their favorite places in the neighborhood— now Northgate can reach out and say, "our kids named you as a community partner. How can we build on that?" Additionally, parents are feeling more inclusion within the school community. Rebecca recounts at parent's night over the summer, when she asked kids how many of their families speak a language other than English at home, "One mom in the back of the room looked nervous. It's scary to be an immigrant, to be a person of color right now. She could be worried about ICE or she could be worried about her family's safety. But when she saw all of those kids raise their hands, so how we were celebrating multilingualism, she looked relieved and then she looked proud." Northgate is working to ensure that pride in who you are and where you come from is available for all members of our communities.