Trying new things can be nerve-wracking, so calm and non-judgmental support makes all the difference. For kids working on their reading skills in the Firwood Circle housing community in Auburn, the best support comes from dogs. Every week, through the Reading with Rover (RWR) program, they are able to have time in a zoom meeting where they read to a trained therapy dog. "It's really comforting to the kids, and creates a safe space. Their anxiety doesn't get in the way when they're reading," says Andy Pham, Youth Engagement Coordinator with Neighborhood House (NH) at Firwood Circle. "And the dogs are good listeners and really meet the youth where they're at—we try to do that all the time as human beings, but the therapy dogs are super skilled."
Before COVID, when RWR was scheduled at the library, Neighborhood House wasn't able to utilize the opportunity. "We have one van that seats eight kids. How am I supposed to choose, out of the twenty-five kids we might have on one day, who gets to go?" Some kids are allergic to dogs, or scared of them, or don't have a cultural norm of keeping dogs as pets. But when the world shifted to virtual spaces during this pandemic, new possibilities emerged.
"Not only are kids building their confidence while reading, they're also getting out of their comfort zone and exploring unfamiliar things." After a ten-minute reading session, kids talk with the dog handlers. They'll compare and contrast their reading partner with their dog at home, or talk about the story they read. Sometimes they're curious about the dog—"How do you know when a dog likes you? How do dogs remember you?" and sometimes they get to connect with the volunteer—"What's your favorite food? Do you have any siblings?" It's been a source of excitement for the kids, and it's also lifted the sprits of NH staff. Seeing kids responding so well to the program keeps the staff energized during a challenging, draining time.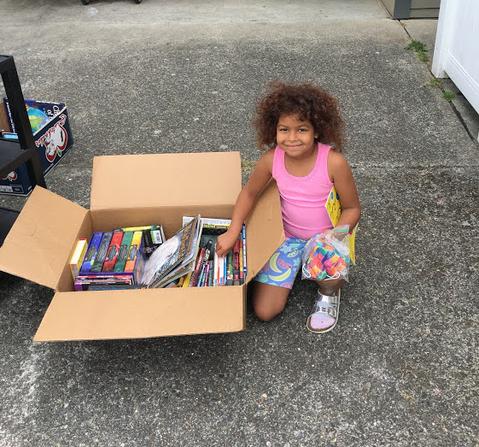 Andy was quick to seize the opportunity COVID-19 presented to do things differently. He says other organizations can navigate the upheaval by, "reflecting on past relationships, and thinking 'what's the next evolution of our partnerships? We've worked with organizations in that capacity, but what about this?'" The deepening partnership between NH and the library means that multiple new ways for youth to engage in reading have blossomed.
Rachael Parks, Youth Engagement Specialist at Firwood Circle, is a lifelong champion of the library as a place that creates access and a sense of community. "I grew up here, I spent so much time in the library. It was a really important place for me." Previous Neighborhood House staff had developed a relationship with the library, but Rachael often went to browse the shelves, use the computers, or print materials for programs. She began to connect more with the youth librarians, and soon Neighborhood House was participating in the Auburn Round Table. This weekly meeting, organized by the library, brought together nonprofits and social service organizations in the area to share resources and collaborate on projects such as an EBT support program and a cell phone program for parents. This meeting is now virtual, but is still going strong—there's even a spin-off group, Auburn Family Providers Forum, specifically convening youth- and family-serving organizations and the Auburn School District.
Family engagement is another partnership that has made this work successful. A mom of two kids in the RWR program will often sit in with her younger son and support him as he sounds out new words or help his pronunciation. And when she's not able to attend, her older daughter will join him and model sight reading. Andy reached out to the mom directly to thank her for her engagement and reflect back the high-quality youth practices he saw her do, like asking open-ended follow up questions about the books or help her son make connections to his home life. This deep relationship with families helps ensure that young people are consistently supported no matter what spaces they're in, and that parents feel like partners and peers with the other caring adults in their children's lives.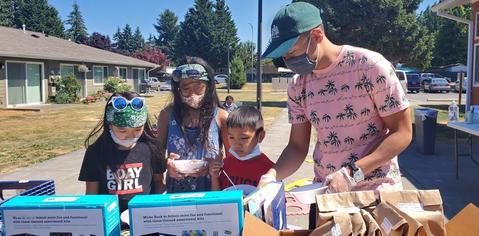 Neighborhood House has been able to partner with the library to host a book drive at the beginning of the pandemic, and staff delivered hundreds of books throughout the neighborhood. This helped them stay connected with parents, and provided kids access with a much more expansive collection of books. "This is so crucial when kids have limited access to books. We hear them say 'I've read the same book five times and I'm bored.' That's why it was also important for us to advocate for physical books rather than e-books."
Language access is also crucial for ensuring parents can meaningfully connect with the program. Before COVID, Rachael frequented the library to check out books to bring back to program. "I asked a girl if she had been reading with her mom, and she said no because her mom can't read in English. When I brought back books in Spanish, she was so excited. She said, 'I didn't think you'd actually do it!' The next time I saw her, she said she and her mom had already finished the book and wanted more. Reading these books meant they were able to spend a lot of one-on-one time together." While library closures have made it challenging to secure physical books in all of the languages spoken by families at Firwood Circle, Neighborhood House staff are dedicated to making their resources as culturally relevant as possible. When they partnered with the library for a book drive, they made sure that East African girls in the neighborhood got books about hijabi superheroes and Islamic history.
"I came back to Auburn after graduating [from college] was because I got so much out of this community growing up," says Rachel. "It's really important for me to give back." Young people, their families, and Auburn as a whole is supported by the interconnected partnerships throughout the community.